Trails End Popcorn:
Thousands of dollars go back to the Scouting program in the Rio Grande Council as a result of the annual Trail's End popcorn sale. Over 73% of all dollars collected during the sale support local Scouting. The popcorn sale is a way for a Scout to support his or her way through the various activities during the year. There are three options to sell popcorn: traditional take order sales, sell online to friends and family out of town and show-and-sell. For more information, contact:
| | | |
| --- | --- | --- |
| Council Staff Advisor | Ernest Espinoza | ernest.espinoza@scouting.org |
| Council Popcorn Coach | Francisco Hernandez | ciscofh@gmail.com |
| Asst Council Popcorn Coach | Sarah Mendez | trailsendrgc@gmail.com |
| Arrowhead Popcorn Coach | Cristina Torres | emh2000@aol.com |
| Rio Bravo Popcorn Coach | Daniel Flores | daniel.flores@usdoj.gov |
| Tip-O-Tex Popcorn Coach | Rick Legere | rick@beachparktx.com |
| Trails End | | support@trails-end.com |
---
Popcorn Campaign Dates
September 1st

Online popcorn sales period

September 7th

August 18th

Show N Sell Order Due Date

Ideal Year of Scouting Training

September 21st & 22nd

Popcorn kickoffs

After unit kick off through November 1st

Traditional take-order popcorn sales period

September 21st & 22nd

Show-N-Sell unit popcorn pick up and distribution

November 1st

Show-N-Sell sales period

November 1st

Unit orders due on Trail's End Website and unit payments due to council.

Filler ups are due, All money due to Council, show n Sell due

November 10th

Popcorn distribution (see Popcorn Handbook for Locations)
---
Why Sell?
Increase your unit and council income – 73% stays in the local area.

Scouts pay for their way for various Scouting programs and activities.

Scouts learn life lessons by "earning their own way."

Unit popcorn % for 2017 starting at 30%.

Additional 1% unit attending Ideal Year of Scouting training on September 9th.

Additional 1% unit attending September Popcorn Kickoff

Additional 1% for placing order and paying by October 30th. 2017 deadline.

There are loads of incentives to motivate Scouts: amazon gift cards and Beach Park perks.
---
Unit Popcorn Coaches' Handbook - _________________________.
---
2020 Products
---
Ways to Sell Popcorn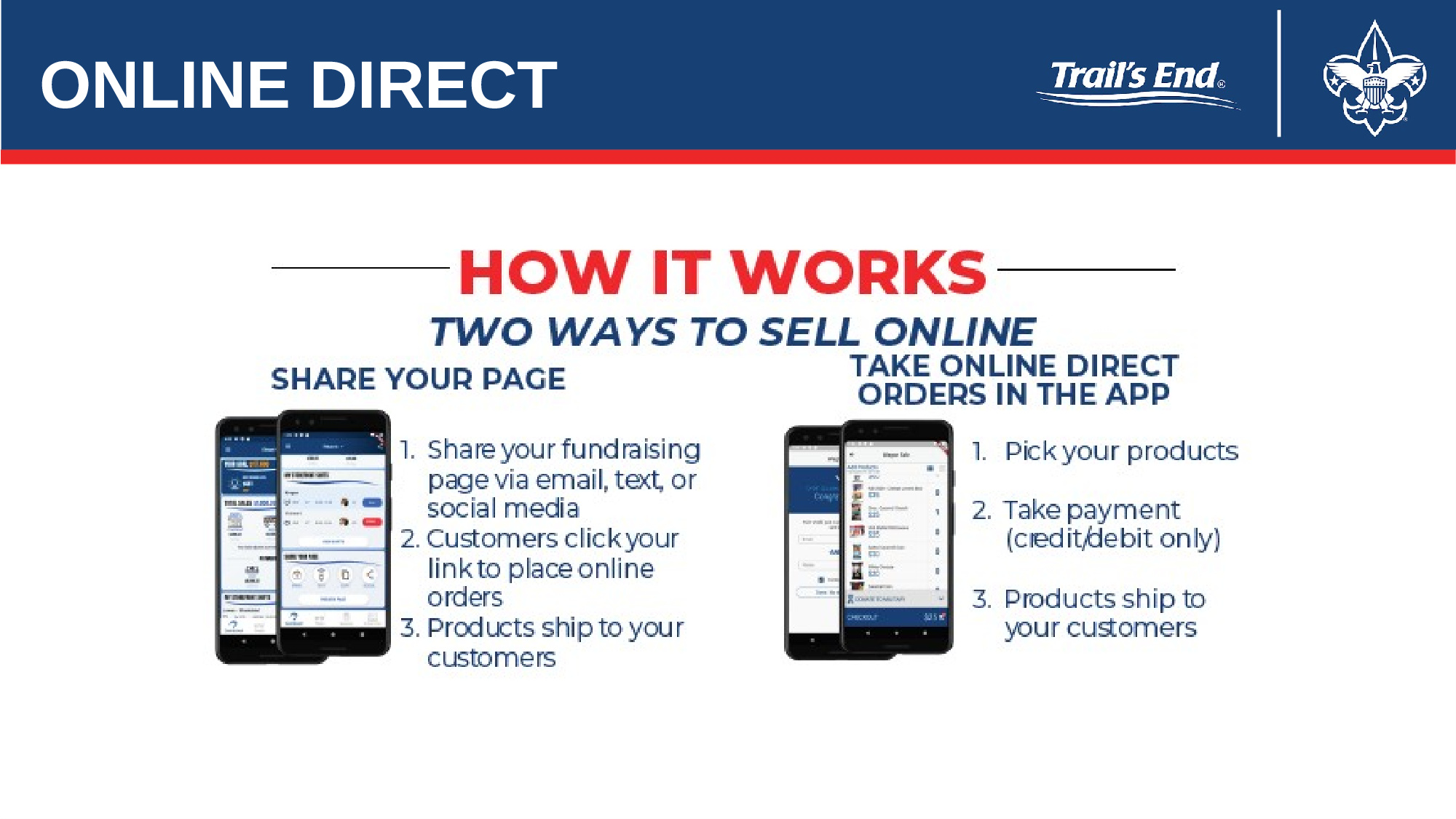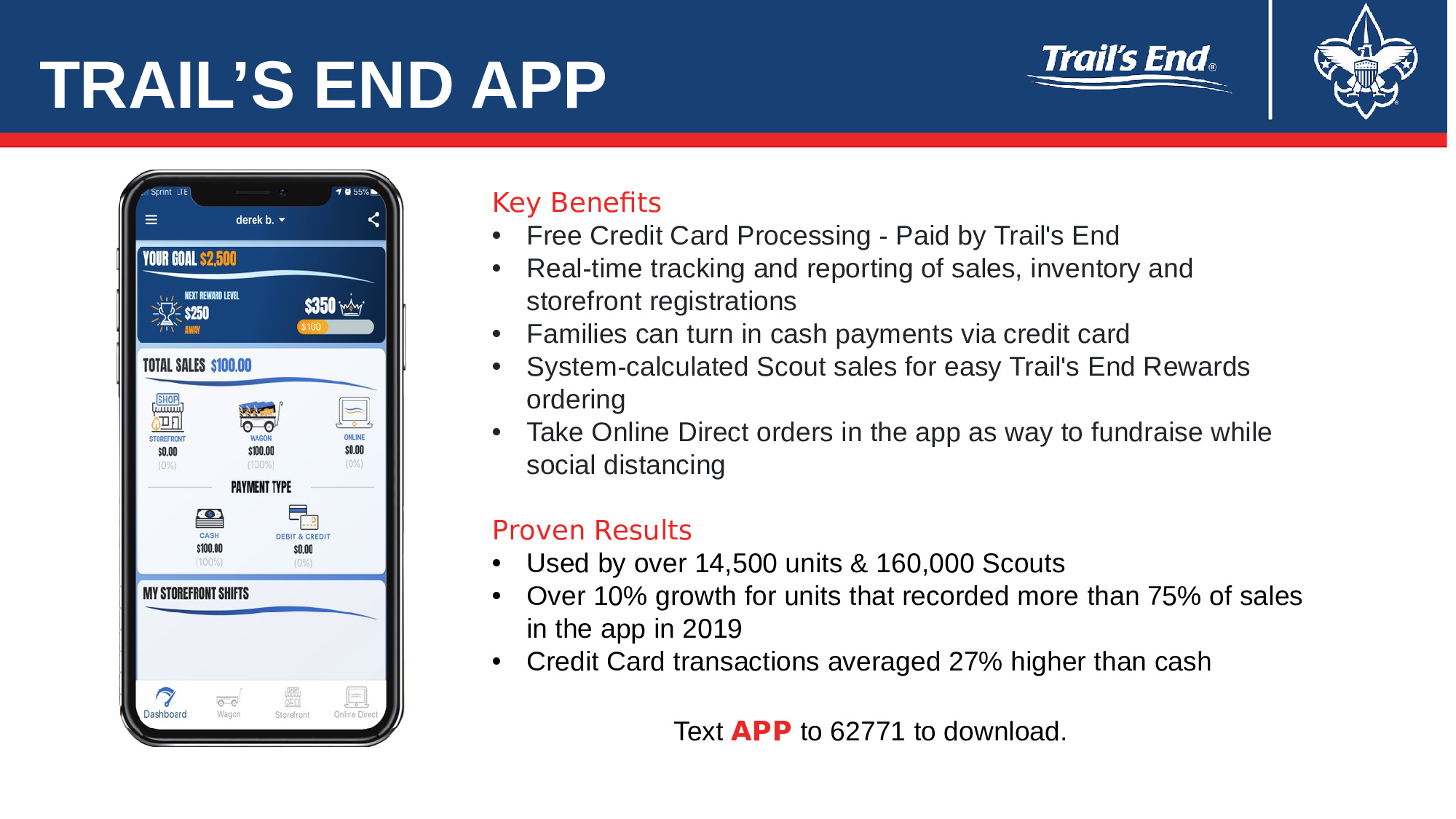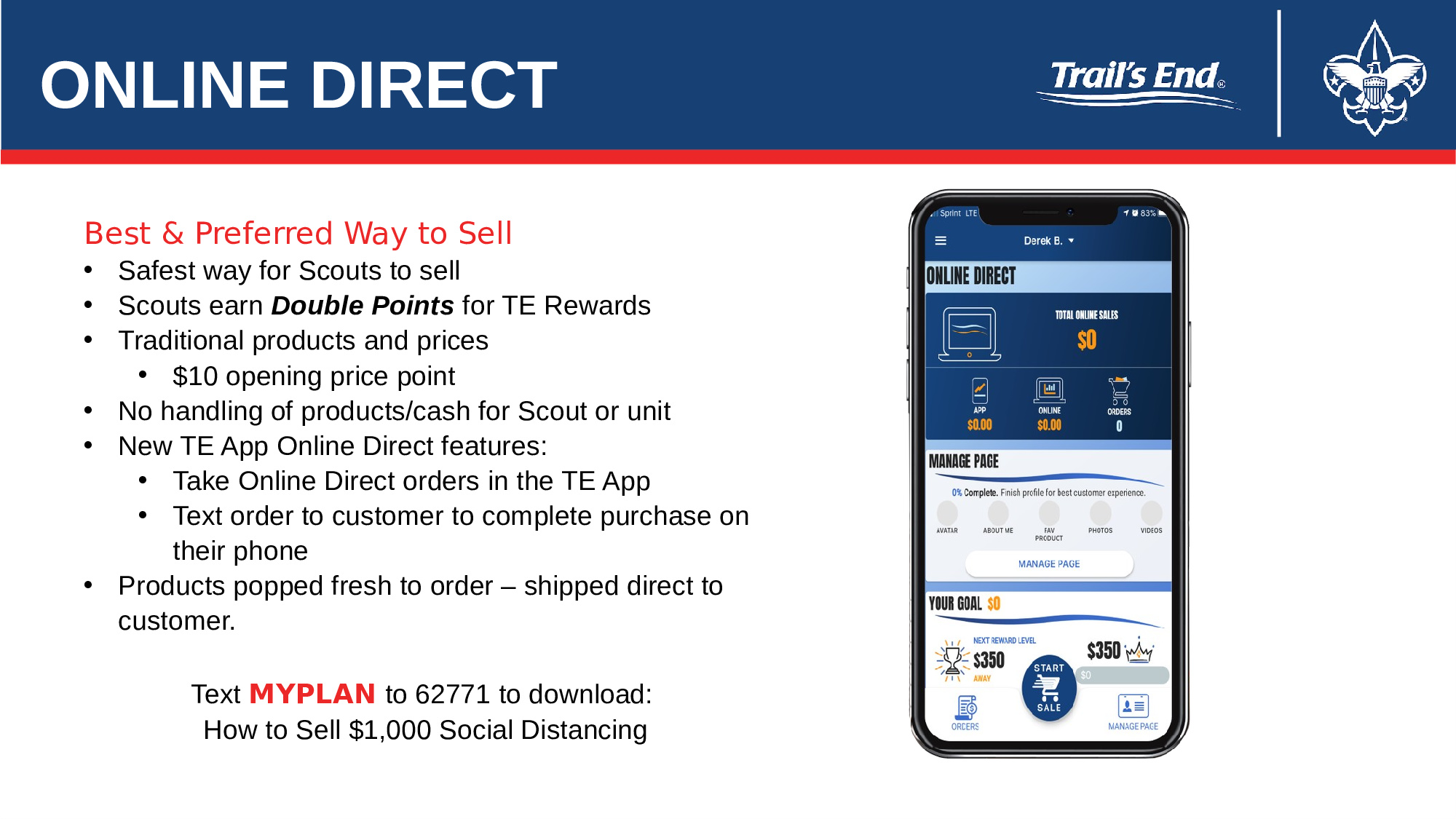 Register Scouts to sell online
Because sell.trails-end.com is a website geared towards children, many under the age of 13, they require customers to enter their birth date before making a purchase to ensure our site remains 100% COPPA (Children's Online Privacy Protection Act) compliant. This information is not saved and cannot be viewed by Trail's End staff.
---
Top Seller Tips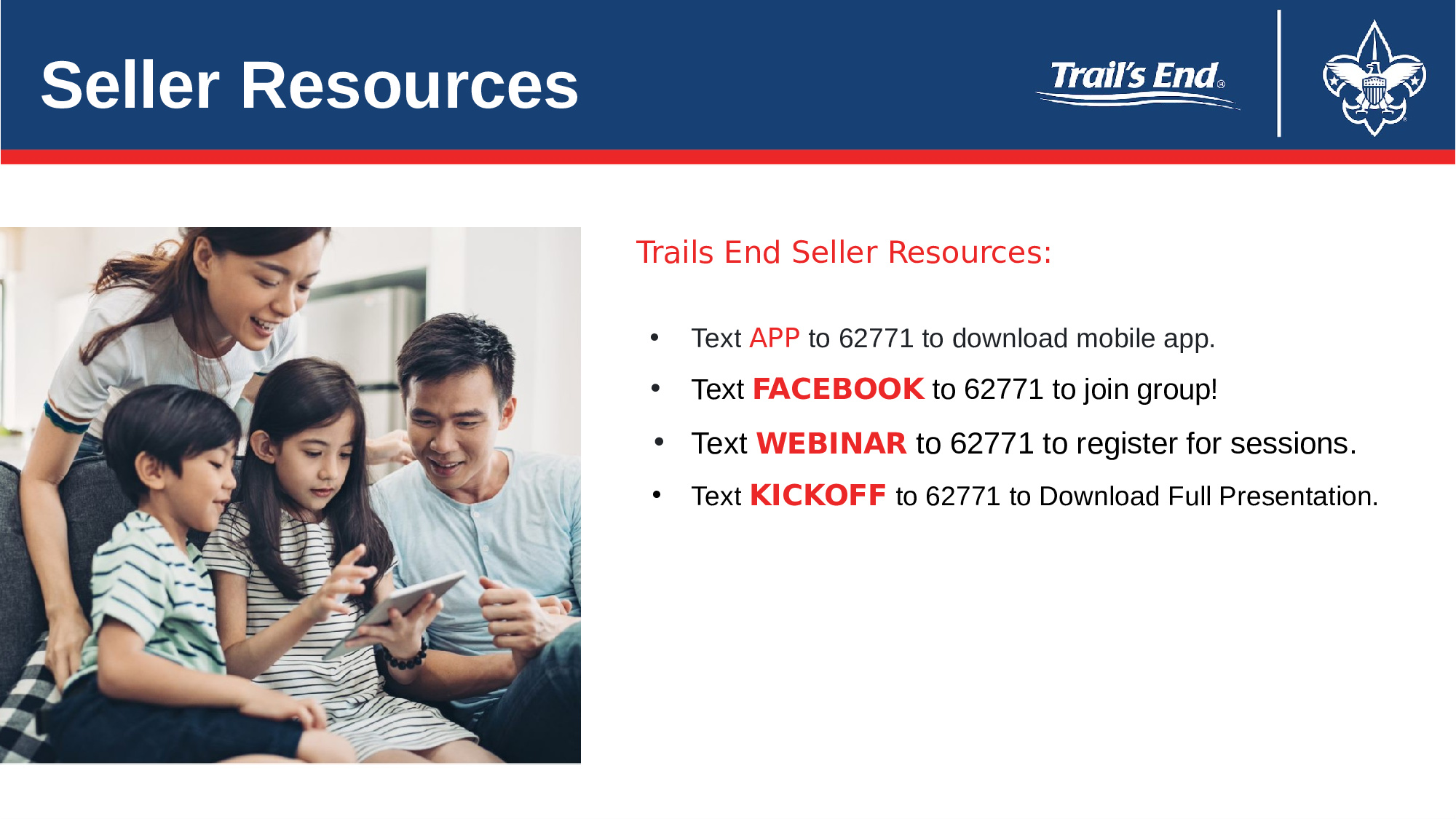 ---
---
2020 Scout Prizes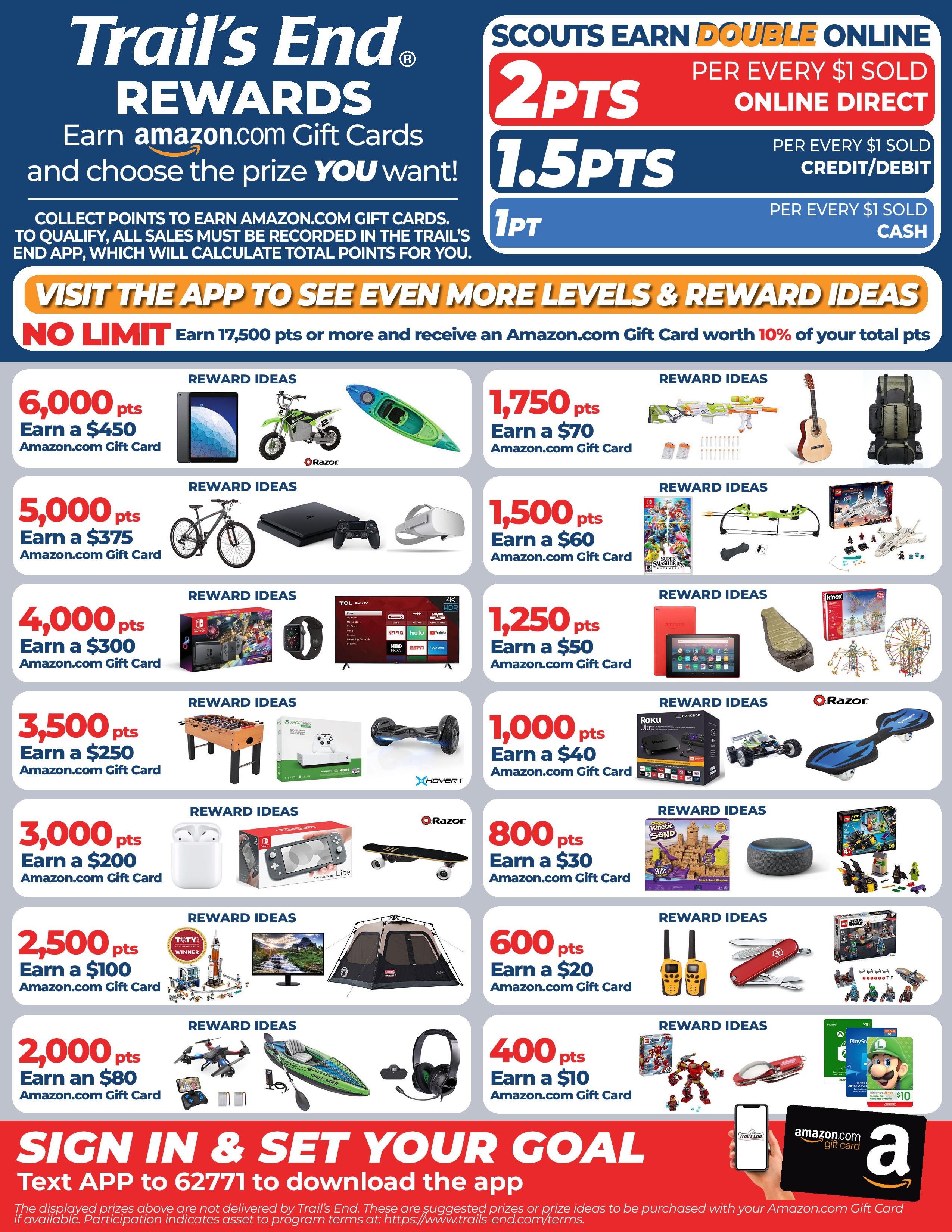 ---
TOP SELLING COUNCIL SCOUT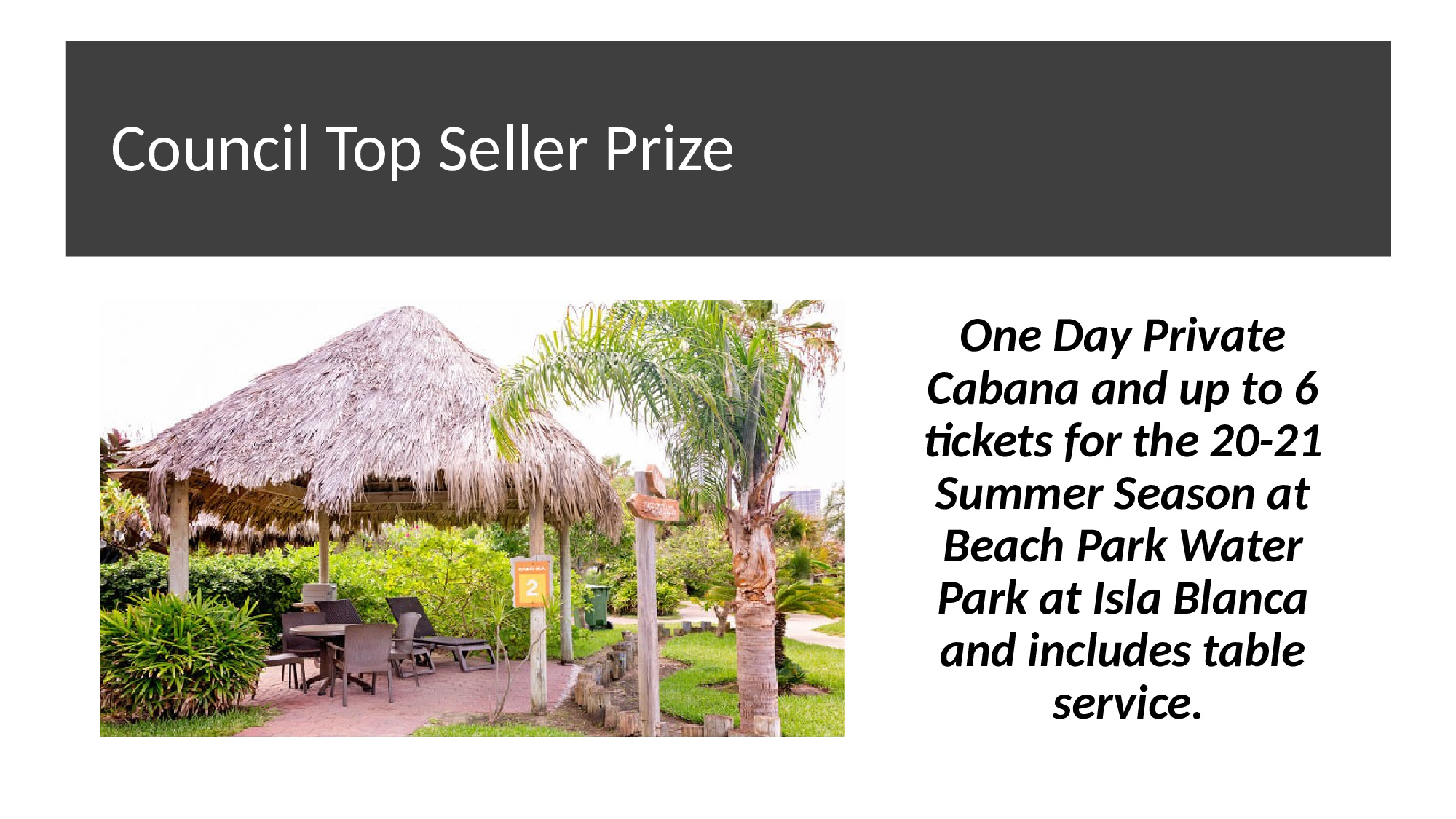 ---
TOP SELLING

DISTRICT

SCOUT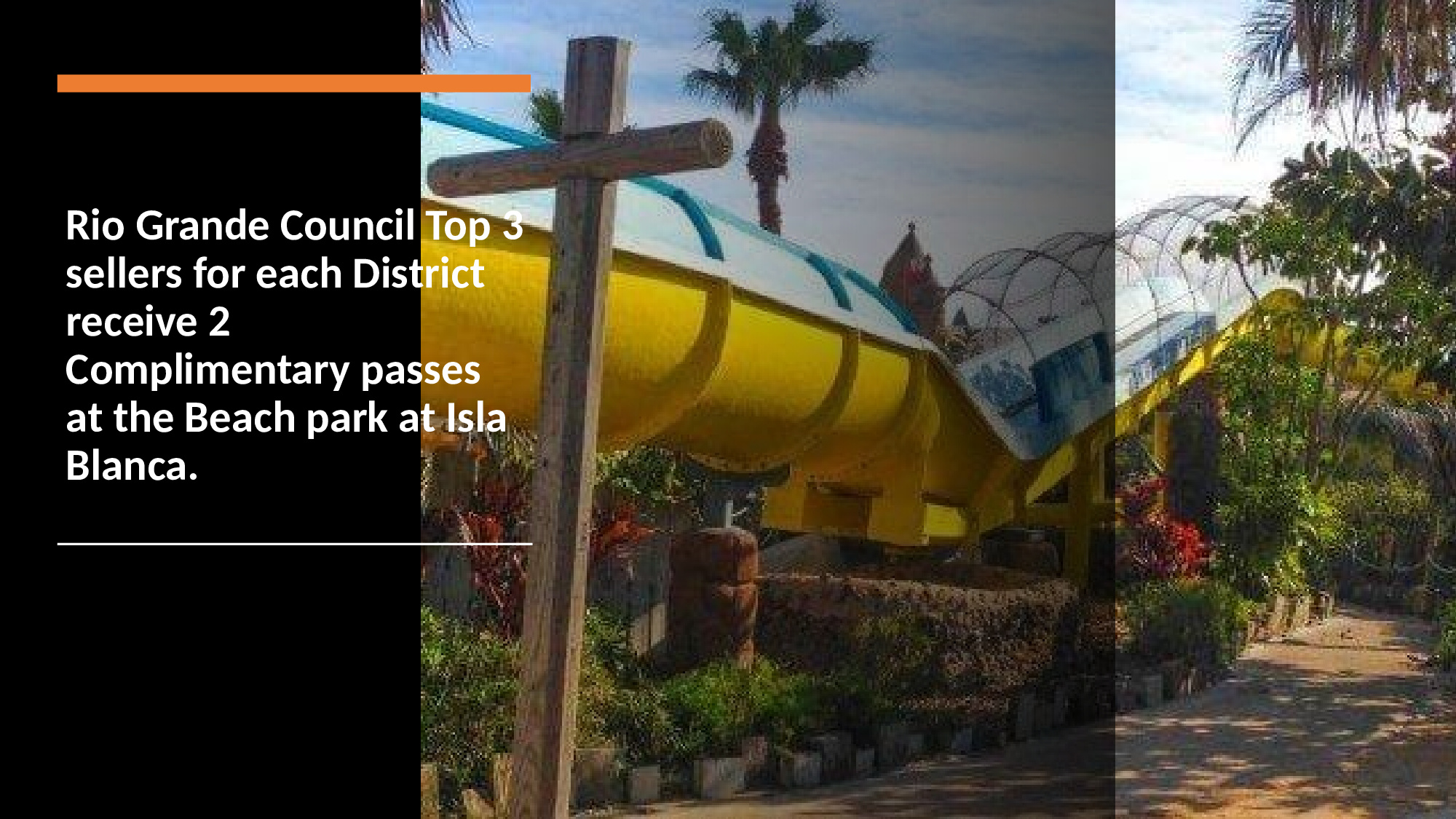 ---